How to Blog Consistently and Build Your Audience: Eight Simple Steps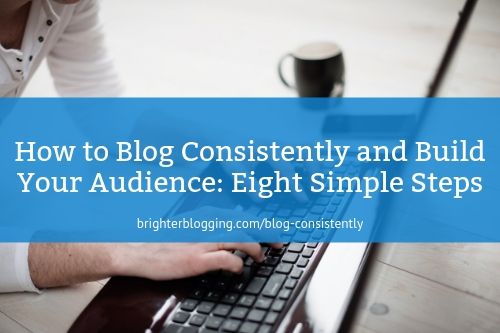 However much you love your blog's topic, you're not going to get far if you don't blog consistently.
If you don't publish posts regularly, you'll find that:
You get out of the habit of writing for your blog, and feel a lot of resistance towards getting going again.
You lose any momentum you've built up – your readership and traffic levels may not drop dramatically, but they're certainly not growing.
You feel discouraged, and eventually, give up on your blog. That might be a deliberate decision to stop blogging, but more often, it just happens. You don't blog for a few weeks … then a few months … and eventually you realise you stopped years ago.
Of course, the easy answer here is to just blog regularly – every week, or twice a week, or three times a week – without fail.
But it isn't really as easy as that.
Life gets in the way, for one thing – even the lovely bits of life. In the past six years of blogging on Aliventures, I've had two house moves, a wedding, two pregnancies, two babies … none of which have exactly been conductive to the smooth running of the blog.
And for many bloggers, writing itself is hard at times. Perhaps you struggle to stay motivated, or you never seem to have any ideas. Even when life is going reasonably smoothly, it can be incredibly hard to stick with your blog, week in, week out.
But …
It's possible.
One of the key things that helps me is to have a clear blogging workflow. In the past – particularly pre-kids – I just wrote posts on the days when I wanted to publish them. That works well for some bloggers, but for me, it became all too easy to let busyness take over.
These days, I have a system – which I'll share in a moment. Before I get to it, though, a couple of important notes:
#1: While you're working through this plan, it's okay to hit "pause" on your blog. Don't worry about publishing new content until you've got well ahead with ideas and plans. If you leap back in too soon, you'll just end up back at square one.
#2: Feel free to tweak this plan to suit you. I'd definitely recommend giving it a go as-is to begin with, but if there's something that isn't quite right for you or your preferred way of working, feel free to improve on it! You might want to leave a comment below to let us know what you'll be changing, in case your tweak would work well for someone else reading.
Step #1: Decide on a Regular Time to Write for Your Blog
How much time can you realistically spend on your blog? (Don't plan for spending the whole of every evening on it – you need downtime too.)
You might, for instance, decide that you can spare 45 minutes every morning before heading out to your full-time day job … which is how I got my freelancing career launched, way back in 2008.
If weekdays are just too manic, you might set aside two hours on Saturdays and two hours on Sundays for writing content.
Figure out what would work for you. Maybe:
6am – 6.45am each weekday morning, before your day job.
12.15 – 1pm, Mondays, Wednesdays and Fridays.
1pm – 3pm on Saturdays and 8am – 10am on Sundays.
8pm – 8.30pm each night, once the kids are in bed.
9am – 10am every weekday, before you start the rest of your work.
This should give you a realistic idea of how much time you've got available each week. For instance, if you write for 30 minutes every evening, seven days a week, that's a total of 3.5 hours.
Note: Try to avoid having your writing time only on the days when you want to publish posts. As you work through the plan, the idea is to get ahead with content, so you're not writing and immediately publishing.
Step #2: Set a Publication Schedule
Now you know how much time you've got available for blogging, you can decide what sort of publication schedule you can reasonably commit to.
For instance, on Brighter Blogging at the moment, my schedule is:
One blog post each Tuesday
One round-up post each Friday
One email newsletter (which summarises and links to the two posts) each Friday
There's no "right" answer to how often you should blog, but I think that most bloggers do well posting between one and three times per week. Once every two weeks is okay, though it might take you a bit longer to build up momentum.
Make sure you're giving yourself enough time to write really good posts. Think of this as a reader: wouldn't you rather read a blog that publishes one great post every week, and leaves you wanting more, instead of a blog that churns out three rushed posts weekly?
You might want to occasionally check with your audience that the schedule suits them. When I surveyed the Aliventures audience a few years ago, I found that once a week was just right for the vast majority of readers, and I stuck with that. Here on Brighter Blogging, I'm planning to add in an extra weekly post once I have more time in the autumn … so long as that works well for my readers.
Step #3: Come Up With a Big List of Ideas
If you've gone through a dry spell with your blog, it's probably because you've struggled to come up with ideas.
To be consistent with your blogging, it's important to generate ideas ahead of time – so you're not scrambling to think of an idea and plan your post and draft it and edit it all at once. Coming up with a bunch of ideas all at once is also easier, because you get into the flow of idea-creation.
Here are a few techniques that work for me:
I like to do this on paper: I write "Aliventures" or "Brighter Blogging" (or a category from the blog) in the centre, then start coming up with ideas around the edges – drawing lines to link them when appropriate.
Ready-made titles or prompts. ProBlogger has an ongoing series of these, which you can sign up for here. Another option is to collect great titles from around the web then create your own unique twist on them.
Reader questions. Have you had any questions from readers recently, by email or in your comments section? These can be a great source of blog post ideas: if one reader's wondering about something, chances are, others will be too! If your readers haven't been forthcoming with questions, you could try looking for your blog's topic on Quora or one of these Q&A  sites.
Listing as many ideas as possible. You can do this on paper or at your computer. Just start listing ideas and try to come up with as many as you can (you might want to set a timer for 10 or 15 minutes to keep you focused). Don't worry about whether the ideas are any good, or whether you can actually tackle them – just get them down.
For more tips on coming up with blog post ideas, check out Twenty-Five Ways to Come Up With Great Ideas for Your Writing.
Step #4: Slot Your Best Ideas into a Content Calendar
Before you start putting your ideas in, you might want to consider having a particular "theme" for specific days of the week or month. For instance, some blogs run a weekly round-up post, like I do right here on Brighter Blogging, and others have a regular monthly slot for a larger post or a compilation piece, like the e-Cover design awards on The Book Designer.
You can create your calendar in any tool you want: in the past I've used pen and paper, Microsoft Excel, Evernote and Trello. There are also WordPress plugins that can give you content calendar functionality on your blog itself. If you'll be collaborating with another writer or with an assistant, you'll probably want to have your calendar in some sort of shareable form.
Here's the Brighter Blogging calendar from the last few weeks: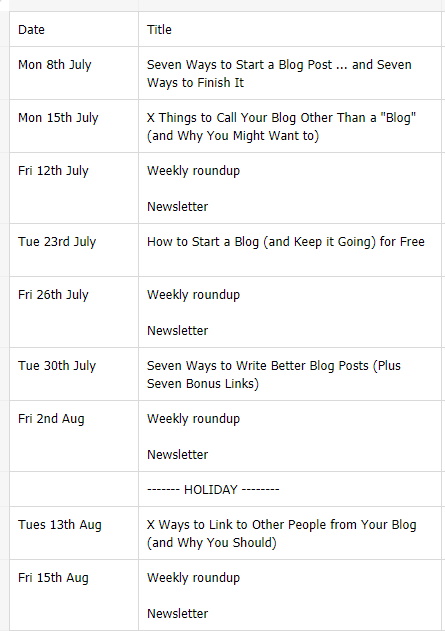 As you sort through your ideas and position them in your calendar, you might want to think about:
The balance of topics: you probably want to mix things up a bit and avoid having five posts in a row on the same topic (unless you're deliberately writing a series).
The balance of content types: this could mean avoiding having too many "how to" or list posts on a row, or switching between longer and shorter posts.
How much research your posts require: obviously, you'll need to allow time for this, and having several research-heavy posts in a row could make it tough to stick to your schedule.
The "call to actions" you want to include: if you want to encourage people to check out your book, for instance, it'll help if your post topics are related to it.
Step #5: Plan Out a Month's Worth of Content
Once you've got your content calendar ready for the next month, it's time to plan out the individual posts (or newsletter articles) that you're going to write.
You don't have to plan the whole month up-front, before you start on any of the writing, but it definitely helps to batch-plan your posts. Just as with generating ideas, you get into the "flow" of planning – and by planning several posts in a row, you might spot links between them or points that you want to reinforce.
There's no need to plan in great detail: ten minutes per post should be enough, and for short blog posts or pieces of content for your newsletter, you might need less than five minutes.
Here's how a very quick plan might look for a short piece of content: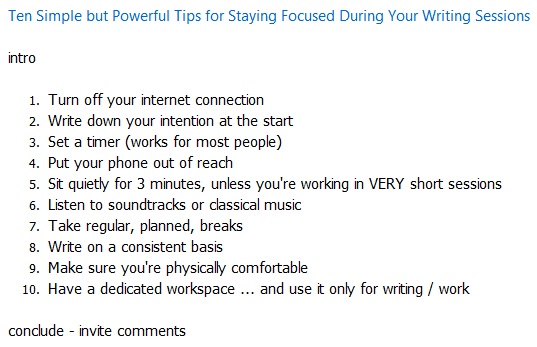 You may find, as you plan your posts, that you change your mind about where to position them on your content calendar. Perhaps a supposedly short piece looks set to be a longer post that you want to put towards the end of the month, so you have extra time to write it. Maybe an idea that you thought would make for a good post would actually be better split into two or three different posts.
It's easier to make adjustments to your calendar now than once you've actually written a bunch of content. Feel free to tweak it as much as you need to.
Step #6: Write Your Posts
Since you've planned your posts ahead of time, the actual writing of them hopefully won't be too tough. You've got a head start on the blank page – you can just open up a document (or your blog's post editor), copy your plan into it, and you're already underway.
When you write a post, don't feel that you have to begin with the introduction. It's often easier to dive in at the first main point (or even later on, if there's a particular section that you want to warm up with … or want to get out of the way). You can come back and add the introduction at the end.
Continuing with the theme of batch production, you could draft several posts before going back to edit them all. Again, this can help you to get into – and stay with – the right mindset for each stage of writing.
While you don't have to work through your posts in the order in which they appear on your content calendar, it probably makes sense to work from the start of the month onwards – otherwise, if something happens to derail your writing, you'll have to re-plan when all your posts are going out.
Ultimately, you want to be creating your content at least a week or so before you're due to publish it: that way, you've got plenty of margin for emergencies – and you may find you enjoy writing a lot more when you're not pressured by an imminent deadline.
Step #7: Edit Your Posts
Being consistent with your blogging doesn't just mean putting out posts at regular intervals. It also means publishing high-quality posts – well-edited ones that readers want to read and engage with.
The big advantage of creating a calendar and getting ahead with your blogging is that you don't need to rush posts out. You've got time to plan before you write – and to carefully edit after you write.
Before editing, I recommend letting your post "rest" for a day or two. If you write it then immediately edit, it's easy to miss things – or to get caught up in the details (choosing this word vs that one) at the expense of the bigger picture (maybe your second subsection should be part of a different post altogether).
As you edit, run through this quick checklist:
Is the introduction gripping? Could the first paragraph or first sentence be cut altogether – and would the post start more strongly if so?
Do the major sections of the post flow sensibly? For instance, if you've written a list of tips, is there a logic to the way you've ordered them – e.g. easiest to hardest, cheapest to most expensive, the start of a process to the end of a process?
Have you included a clear "call to action" at the end of your post? What do you want the reader to do after reading it? (E.g. leave a comment, check out a product, take some action in their own life.)
Are all your sentences clear? If you had to read something twice to make sense of it, your readers definitely will!
Are any words misspelt? Are any words too complicated for your audience? Too slangy? Too juvenile?
If you're writing a particular important post – perhaps one that you'll be linking to a lot from your guest posting, or one that you hope will get significant social media attention – then it's worth asking a friend to give it a read-through. It can be almost impossible to spot your own typos! Tools like Grammarly can also provide a useful final check.
Step #8: Let Readers Know What's Coming Up
This final step is optional, but I think it can be a useful one when you're trying to position yourself as a consistent, reliable blogger.
Let your readers know what's coming up next. That could mean giving the title of your next post, or giving a brief description of what sort of content you'll be covering.
With my Aliventures blog, I often do this in my newsletter, with lines like:
"In next week's newsletter, I'll be talking about to stay motivated for the long haul with your writing."
If I'm writing two or more linked posts, I try to make this clear at the end of the first post:
"Next week, I'll be posting about how to get back on track when your plans go awry." (From Are You Planning Your Writing Career … or Winging It?)
This way, readers know that you're not about to disappear on them. They can see that you're planning ahead – and their trust in you grows as you consistently deliver on what you've promised.
Plus, letting readers know what's coming up on your blog is a great excuse to encourage them to subscribe for email updates, so they don't miss anything. 
Blogging consistently isn't easy. Life's always going to get in the way – whether that's the day job, family commitments, or having time to create the products or sell services that your blog exists to market.
Even if you don't feel quite ready to create a full month's content calendar, try to stick with these three basic principles of consistency:
Come up with ideas ahead of time (you probably only need 20 minutes once a month for this, unless you're blogging very frequently).
Plan several posts at once (try to get 3 or 4 planned in one 30 minute session).
Write your posts at least a few days ahead of time, so you can let them "rest" for a day or two before editing them (if you're struggling to get ahead, post less frequently for a bit).
If you've got any tips to share on staying consistent with your blogging, just let us know in the comments.