What if You're Not a "ProBlogger"? Five Great Alternative Reasons to Blog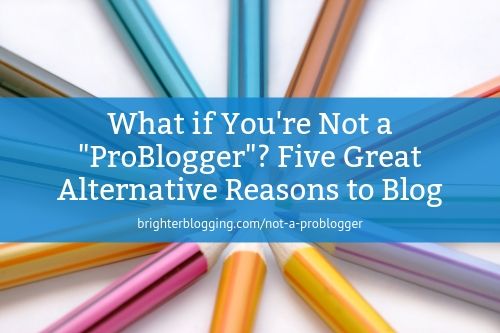 A fair amount of conventional blogging advice is aimed at people who see themselves as bloggers (rather than writers – or even business owners) and who want to build and "monetize" a blog: sometimes called "ProBlogging", after Darren Rowse's site ProBlogger.
While some people do very well from this type of blogging, you don't have to be a self-styled "ProBlogger" to use the power of blogs. You don't even have to identify as a "blogger" to get a lot out of blogging … and you don't need a massive blog stuffed with adverts in order to make money.
Here are five alternative reasons why you might try blogging (or why you might already have a blog) – along with tips specific to your situation.
Reason #1: You Want to Start or Grow Your Small Business
Blogs themselves don't make money – businesses do. While you can turn a successful blog into a successful business (through advertising or affiliate sales), the most effective way to start making money online is to have an actual business.
Your business will probably involve at least one of the following:
Freelancing – working with clients to provide a particular service. For us writers, that could be copywriting, producing web content, editing client's work, coaching/mentoring, or proofreading.
Selling digital products – producing ebooks, ecourses, or other downloadable resources, which you can promote through your blog.
Selling physical products – this could be anything from reselling wholesale goods to creating your own hand-crafted items.
Your audience: Whatever your business sells, whether it's a service, a digital product or a physical product, your intended audience should be your potential customers. You may well get a few peers or industry experts dropping by as well – but your posts shouldn't primarily target them.
Key tip: Make sure your audience know that you have something to sell! It's easy to get caught up in building a popular blog … but don't forget to mention your services / products once in a while. (The end of a blog post is a great place to do this, with a call to action.)
Reason #2: You Want to Build Your Profile in Your Industry
Twenty years ago, becoming well-known in your field meant attending conferences (and eventually speaking at them), writing journal articles, and perhaps having a book or three published.
Today, it's a lot easier to get attention. With a blog, you can publish your best work for the world to read. If, for instance, you're a literary agent, you can blog about industry news, and produce useful resources for both potential clients and for other agencies.
Your audience: You're aiming your writing at fellow professionals in your field. This probably means having a keen eye on other blogs in your industry – along with breaking news stories.
Key tip: If you feel that you don't have much expertise of your own, borrow some! Find great quotes or advice from people higher up than you in the industry, and collate these into one great blog post. (Make sure you clearly cite your sources, linking to blogs / Twitter accounts / etc where appropriate.)
Reason #3: You Want an Outlet for Your Thoughts and Ideas
Not everyone wants to blog for business or career reasons. Blogging started off as a hobbyist medium … and there are still plenty of bloggers who write simply because they enjoy being able to share their thoughts and ideas with an audience.
You can get a huge amount from this more personal style of blogging if:
You'd like to build a strong writing habit
You find that having responses to your writing encourages you to keep going
You want to help family and friends keep in touch with what you're doing (maybe you're travelling, or live far away from them, or have a new baby, etc)
Your audience: Unlike other bloggers, you don't need to worry too much about pleasing your audience – you're blogging primarily to please yourself! If you blog about your family / friends, though, you may want to disguise names or change details of incidents, to prevent hurt feelings…
Key tip: Some personal bloggers like to use a pen name, so that they're anonymous. If you emphatically don't want family and friends reading your inmost thoughts, this is probably the best path to go down!
Reason #4: You Want an Online Platform to Reach an Audience
This isn't too dissimilar to Reason #1 … it just involves looking ahead a bit further! If you don't yet have a service or product to sell, you may still want to blog with business in mind.
Let's say you're writing a book. You'll need to be able to reach potential customers for that book once it's finished – and that applies whether you're self-publishing or seeking traditional publication.
Agents and editors will be keen to know whether you have a blog, Twitter following, or other online presence – and having a strong online platform could just make the difference between a "not quite right for us" and a "yes please!"
Your audience: Like freelancers and business owners, you're aiming to reach potential customers. Think about your book's likely readership – what sort of content could you write that would connect with them? With fiction, this might be reviews of books in your genre, or posts about some aspect of your story.
Key tip: Build your platform before you need it. Your blog is unlikely to take off overnight – and the sooner you start, the sooner you can reap the benefits. (Having supporters cheering you on as you write your book can be hugely motivating!)
Reason #5: You Want to Meet Likeminded People
The blogosphere is a social place … and some people get into blogging as a way to connect with others who have similar hobbies, passions, or interests.
Whether you're a die-hard fan of an obscure 80s band or a passionate advocate for a particular cause, blogging can be a great way to meet likeminded people from all around the world. Your blog can be a place to report news, round up other people's posts, or to simply invite comment and debate.
Your audience: Other people passionate about the same thing as you – whatever that might be. Writing posts that you'd love to read will almost certainly help you engage with them.
Key tip: Make the most of the social aspects of blogging – find blogs to comment on, use Twitter and Facebook to connect with others, and encourage comments on your own blog.
So … over to you! Do any of the above reasons match up with your blogging goal? (You might find that your blog falls into more than one category.) Or do you have a completely different reason for blogging? Let us know in the comments…