Brighter Blogging Roundup: Friday 20th September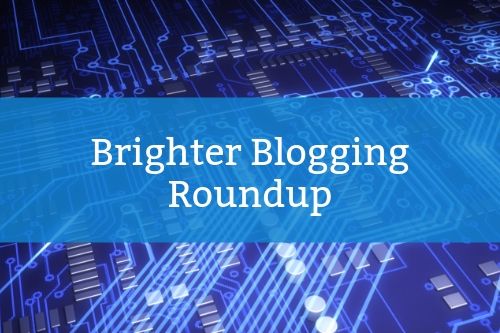 Looking for some extra blogging inspiration?
Each week, I pick a bunch of my favourite blog posts to share with you. Here's this week's:
TOP READ: 25 Best WordPress Themes for Bloggers (No Code Required) in 2019, Ryan Robinson, RyRob.com
Choosing a theme can be one of the hardest aspects of getting your blog up and running … and I've switched my own blogs' themes more times than I can remember over the years. This huge post from Ryan Robinson is a great guide to lots of different top themes (most of these you'll have to pay for, though many have a free version). The second on the list, Divi, is my own theme of choice: I'm using it here on Brighter Blogging and on my site Aliventures.
TRAFFIC: What 3.25 Billion Site Visits Tell Us About Google, Facebook, and Where Different Niches Get Their Traffic, Kyle Byers, GrowthBadger
This fascinating post was published a couple of weeks ago, but I wanted to include it in the roundup as it's a hugely detailed look at where sites in different niches get their traffic from. If you're a bit of a data geek, or just want to see whether your traffic stats are normal for your niche, this makes for a good – if long! – read.
DOMAIN NAMES: How to Choose a Domain Name (+ 30 Blog Name Generators!), Leanne Regalla, SmartBlogger
What should you call your blog? It's not an easy question to answer … especially when it feels like lots of the best names have been taken. In this post, Leanne runs through lots of key considerations for choosing a domain name, and mentions some key mistakes that bloggers often make. There are a bunch of links to domain name generators, too, plus a huge number of examples of different blogs' names to inspire you.
INCOME: Six First Income Streams Recommended for Bloggers, Darren Rowse, ProBlogger
Are you looking to make money from your blog? This post, based on one of Darren's podcasts, runs through some key factors to consider and looks in some detail at the different options available (which essentially boil down to advertising, affiliate marketing, and selling your own product/services). It's an excellent read for fairly new bloggers or would-be bloggers who haven't yet figured out how their blog will bring in money.
GUTENBERG EDITOR: Essential WordPress Block Editor Tricks To Make Your Life Easier, Natividad Sidlangan, Blogging Pro
I have to admit, I've not really got to grips with the Gutenberg Editor yet, after many many years using the WordPress classic editor. If you feel the same way, or if you're using the new editor but feel like you're missing some tricks, this great post runs through some tips you might not have come across before.