Brighter Blogging Roundup: Friday 27th September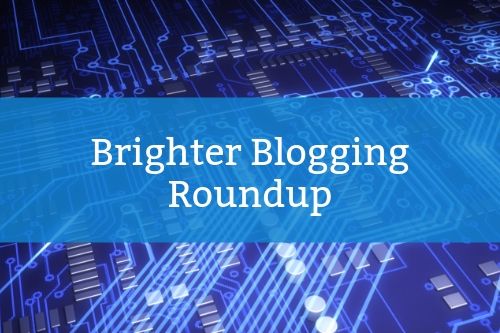 Looking for some extra blogging inspiration? Each week, I pick a bunch of my favourite blog posts to share with you.
Here's this week's:
TOP READ: 3 Truths to Help You Age Well, Michael Hyatt, MichaelHyatt.com
This might seem like a slightly unusual post to choose … but I've been blogging for over a decade now, and something I've noticed in the online-business/entreprenurial world is that being young is often very much prized, with articles about the amazing things that bloggers have achieved in their 20s or 30s. Michael's post is a welcome reminder that youth is not everything, that ageing is normal, and that each season of our life brings different advantages.
STARTING: How to Start a Blog in 2019 (+ Resources on EVERYTHING!), Jon Morrow, Smart Blogger
This huge article from Smart Blogger takes you through all the different steps of starting a blog, from choosing a topic to starting to make money from your blog. It doesn't go into a lot of depth about any particular area, but it does link to lots of further information. If you want everything laid out for you in one place, this is a great post to begin with.
FINISHING: 5 Ways to Resist Bright Shiny Object Syndrome and Finish What You Start, Cynthia Morris, Productive Flourishing
Charlie Gilkey's new book, Start Finishing, came out this week, and this post is one of several great guest posts on his blog Productive Flourishing to celebrate the launch. I find it very easy to get distracted from the hard bits of one project by the lure of a shiny new one … if that sounds like you too, this post is a great look at why it happens and at what you can do about it.
SHORTCODES: How to Add a Shortcode in WordPress (Beginner's Guide), WPBeginner
If you've ever wondered what WordPress shortcodes are, or if you're not quite sure how to use them, this is the article for you. WPBeginner also explain how you can create your own shortcodes, if you want to get a little more advanced (but the first part of the post is a very straightforward step-by-step guide to simply using shortcodes).
INSPIRATION: Why Everyone Hopes You'll Be the Hero, Robert Bruce, Copyblogger
This inspiring post from Robert Bruce offers a different way to look at things, if you think that your potential customers/readers/clients are somehow against you … instead, they're truly hoping that you will be the hero they're waiting for; that your service or product will solve their problems.
Have you come across any great posts this week? Feel free to let me know about them in the comments.