Brighter Blogging Weekly Roundup: Friday 11th October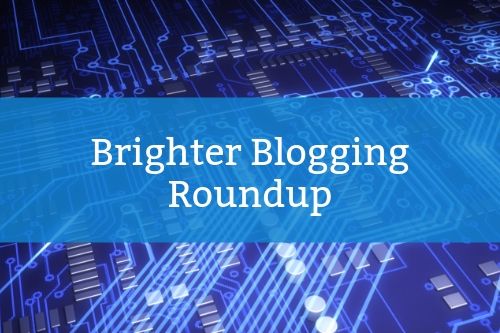 Looking for some extra blogging inspiration? Each week, I pick a bunch of my favourite blog posts to share with you. Here's this week's:
TOP READ: 21+ Best Affiliate Programs for Bloggers in 2019 (to Earn Affiliate Income from Blogging), Ryan Robinson, RyRob.com
Affiliate marketing is a good way to get started making money from your blog … and in this impressively comprehensive post, Ryan explains what exactly being an affiliate entails, and how to get started with a whole bunch of different affiliate programmes. There's a very detailed breakdown of how each works, so you can compare details like "commission rate", "payment method" and "cookie life" for the different options.
POSTING: What Time of Day is Best to Publish to Your Blog?, Darren Rowse, ProBlogger
Have you ever thought about the effect of when you publish your blog posts? Some bloggers think it's crucial to publish at the "right" times, but in this post, Darren explains why that's not necessarily the case, explaining that the timing of your social media posts and of your emails might well be more important.
PLUGINS: How Many WordPress Plugins Should You Install? What's Too Many?, WPBeginner
Since my earliest days of blogging (back at the end of 2007), bloggers have been insisting that "too many" plugins will slow your WordPress site right down. But is that really true? In this post, the WPBeginner team unpack the myths about "too many" plugins, and explains the real problem: plugins that are broken, or publigs that use a lot of resources and that aren't really necessary.
BROKEN LINKS: How to Find and Fix Broken Links (For Dummies), Natividad Sidlangan, Blogging Pro
If you've been running your blog for any length of time, it's pretty much guranateed that you'll have some broken links in there. Sites that you linked to three years ago might since have vanished … and others may have updated their URL structures without remembering to redirect the old page URLs to the new ones. This simple guide explains how you can use a plugin or an online check to find broken links on your site.
MARKETING: How to Deliver Wow Experiences, Michael Hyatt, MichaelHyatt.com
What do your readers expect from your blog, course, or ebook? What would it take to "wow" them? While it may not always be possible to do everything you'd like to, sometimes, creating a wow experience doesn't require you spending much money or taking much time over it. Michael explains how to achieve "wow", with a worked example of a conference he put on recently.
Have you come across any great posts this week? Feel free to let me know about them in the comments.