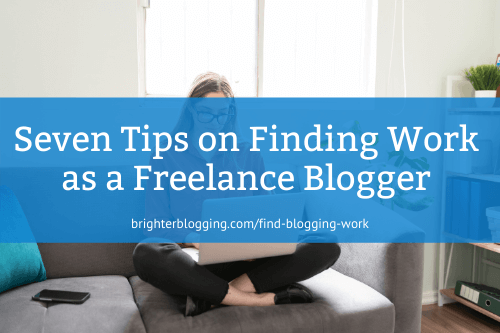 Do you want to get paid for your blog posts?
Freelance bloggers have been around for years – I've been getting paid to write for blogs since the start of 2008, and there were plenty of people doing likewise before me!
Freelance blogging is still going strong, with a huge number of large websites that need regular content.
Whether you want to start a new career or bring in some cash while you build up your own blog, freelance blogging is a fantastic way to make money.
It can be a crowded marketplace at times, with lots of fellow freelancers out there pitching for gigs … but there are still plenty of ways to find work.
Here are the tips that have worked best for me over the years:
Tip #1: Pitch Guest Posts to Large Blogs
One great way to get samples of your work out there is to write guest blog posts. Typically, you write these for free: in return, you get a "bio" at the end of your post where you can tell readers a bit about you and link to your website and/or social media accounts.
You can use your guest blog posts as samples when applying for blogging gigs (it doesn't matter whether or not you were paid for them). Plus, you can use your bio to advertise your freelance blogging services.
Further Reading:
How to Pitch Your Guest Post – Successfully, Ali Luke, Brighter Blogging
Tip #2: Use High-Quality Blogging Job Boards
There are loads of different job boards out there for freelance bloggers. I've used a lot of them over the years, and frankly, some of them are a bit rubbish! It's also important to steer clear of sites that offer to match up freelancers with blogging jobs (while paying you very little and taking a hefty cut).
Instead of trawling through dozens of job boards every day, pick a handful of high-quality ones to use. I recommend the ProBlogger job boards for a wide range of jobs (you'll need to pick through a bit to avoid ones that don't pay much), and Become a Freelance Blogger's job board for curated $50+ per post gigs.
Further Reading:
36 Blogging Job Sites to Get Work in 2021, Ryan Robinson, RyRob.com
Tip #3: Contact Blogs Directly
Some blogs don't ever put out job ads for writers … but they're open to freelance pieces all the same. You can pitch their editors with a post idea (just like you would with a guest post). If your post is accepted, the editor will normally discuss a rate of pay with you.
I find that these blogs tend to pay well, and though they may not want more than a post every month or two, they can be great opportunities to write for higher-profile sites. For handy round-ups of these types of blogs, try:
Further Reading:
Here's What Real Blog Editors Look For in Your Pitches, Thursday Bram, Be a Freelance Blogger
Tip #4: Look Out for Job Leads on Social Media
Some blogging gigs are only ever advertised (or first advertised) on social media. If you're struggling to find jobs elsewhere, you might want to search on Twitter for phrases like "looking for a writer" or "hiring a blogger" to see if you can find some good leads.
Similarly, you could join Facebook groups for bloggers or website owners, and keep an eye out for posts where people are asking for recommendations of a blogger or writer.
Further Reading:
How to Use Social Media to Get Freelance Writing Jobs, Eva Wislow, ProWritingAid
Tip #5: Focus On Specific Topic Areas
It's easiest to find blogging work if you have some specialist areas to focus on. While sometimes you'll find jobs that want you to turn your hand to lots of different types of content, most will be focused on one topic – and it's really helpful to be able to show a track record of writing in that area.
You might want to focus on topic areas that link in with your professional life (e.g. marketing, HR), your personal life (e.g. parenting, spirituality), or your hobbies (e.g. golf, knitting)
Further Reading:
Find Your Freelance Writing Niche in 5 Simple Steps, Claire Bradshaw, Writer's Edit
Tip #6: Let Existing Clients Know You're Happy to Take On More Work
If you already have some clients, do they know you're looking for more work? Something as simple as saying "I've got some more availability over the next few months, would you like me to take on more posts for you?" could get great results.
You may also find that existing clients refer you on to their own contacts. As you become more established as a freelancer, these word-of-mouth referrals can end up bringing in enough work that you don't need to actively search for new gigs and more.
Further Reading:
25 Ways to Ask for a Referral Without Looking Desperate, John Rampton, Entrepreneur.com
Tip #7: Ask Friends and Family to Spread the Word
If you're just getting started as a freelance blogger, you could ask your family and friends to spread the word to their own networks. They may not be interested in blogging (or even know what it is!) but they might well know someone else who is.
You may also find that family and friends have writing jobs for you that aren't blogging-related. For instance, they might want static content for a website (like an About page) or they might know someone who wants content for a print publication. It's up to you whether you want to take on this type of work or whether you want to focus solely on blogging.
Further Reading:
This is the Perfect Email to Send to Your Network When You're Promoting Your New Side Gig, Alex Honeysett, The Muse
Freelance blogging can be a fantastic way to bring in a quick income from blogging – especially in the early days of your own blog, when you're likely spending more on your hosting than you're making from your site.
With so many big blogs looking for content, there's lots of work available for freelance bloggers. Use the tips above and you should be able to find some blogging gigs fast.
---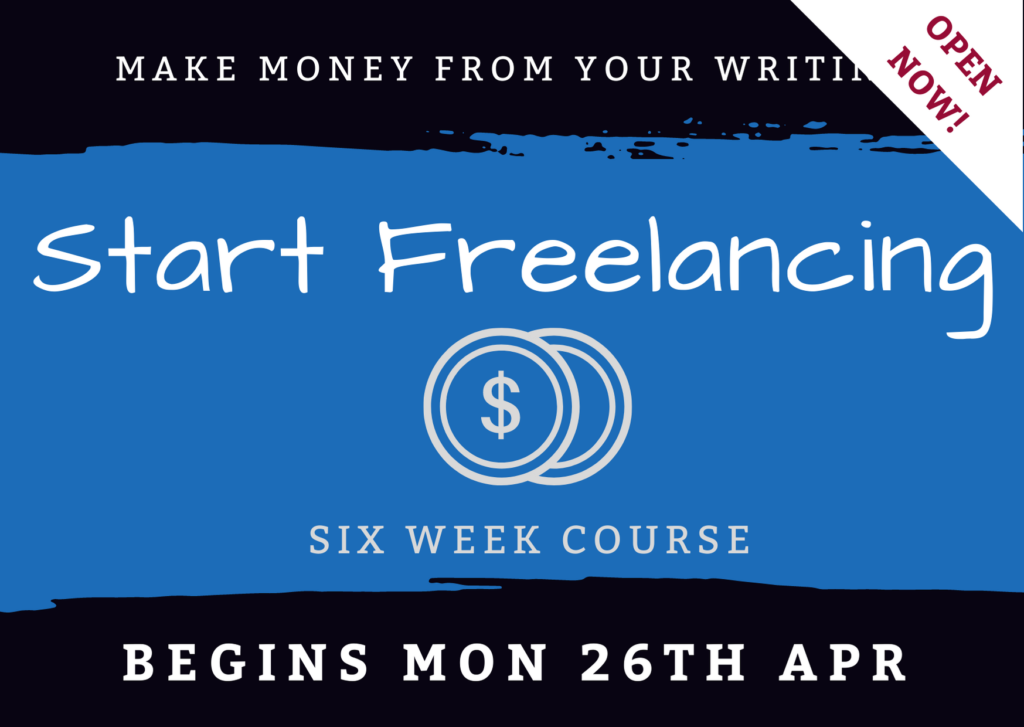 If you want some extra help and support, check out my six-week online course Start Freelancing.
Registration is open from Monday 19th April and the course begins on Monday 26th April. It's a great way to get your freelancing career off to a flying start, with everything you need to know to launch your business successfully.